The Best Ice Cream Shops Across Canada
Don't miss: Their ice cream sandwiches made with fresh-baked cookies are amazing, but their ice cream tacos are not to be missed. You get three scoops plus whip cream, chocolate or caramel sauce and two extra toppings when you order the taco cone. You may or may not want to bring a friend to help tackle it.
The top 21 ice cream sandwiches in Toronto by neighbourhood
Booyah offers ice cream sandwiches in two sizes (full or half). All are fully customizable with a variety of freshly baked cookies and a scoop of ice cream.
Ice cream tacos are the new tacos
Check out what Indie88 had to say about this "revolutionary treat"
Booyah occupies a retail storefront on Vaughan Road just a few doors down from Dutch Dreams, and it couldn't be more different from its neighbour.
Ever dreamed of a concoction in which you could shovel a handful of ice cream into your mouth with ease? Booyah has you covered.

Toronto's craziest ice cream sandwiches right now
Booyah bends a chocolate-dipped, sprinkle-coated, house-made waffle into the shape of a taco, then fills it with three scoops of ice cream (they have 36 options) and covers it in over-the-top toppings.
The top 5 vegan ice cream sandwiches in Toronto
Vegan cookies in flavours like oatmeal and s'mores are filled with your choice of dairy free ice cream or soft serve at this ice cream parlour near St. Clair West.
Booyah rated #1 ice cream treat in Toronto
Ice cream is all the rage in Toronto this summer. From tacos to sandwiches to tricked out cones to small batch creations in interesting flavours, there's plenty to indulge in if you're craving a frozen treat.
Isabelle is a freelance stylist, photographer, and digital content creator specializing in food, product, and lifestyle reviews Booyah Inc.
Chatelanie has Booyah as one of the best ice cream shops in Canada
There's something so perfectly summery about a straight-up dipped cone that we sometimes prefer to overlook the flashier fare. Here, soft serve goes for a brief plunge in a tub of Belgian chocolate and emerges with a smooth new coat
Booyah: A One of a Kind Ice Cream Experience
With our minds full of joy after hearing Booyah's story, and our stomachs full of ice cream, we left Booyah pretty happy. Blair is right—everyone is in a good mood when ice cream is involved.
10 Tastiest vegan ice cream treats in the GTA
St. Clair West residents can't get enough of the homemade ice cream sandwiches (made with your choice of four flavours of vegan cookies and multiple flavours of hard or soft vegan ice cream) at Booyah Inc.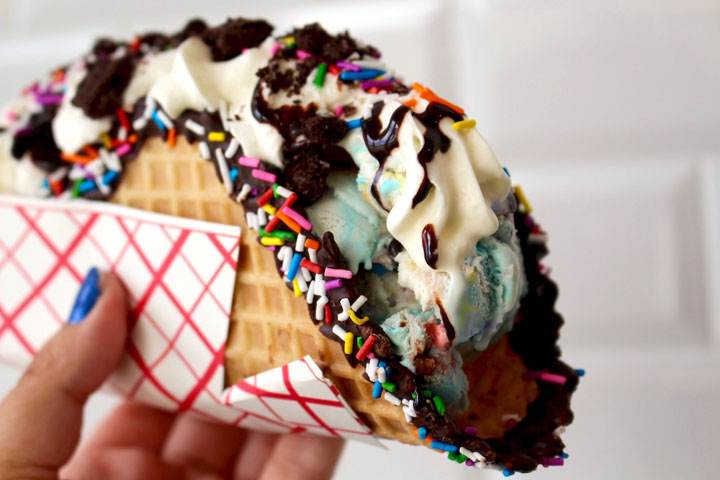 "This Is The Insane Ice Cream Taco Spot In Toronto You Need To Try ASAP"
Narcity talks about some of the items we have that makes Booyah a must try!
The Coolest Ice Cream Sandwiches in Toronto
Our ice cream taco as one of the coolest ice cream sandwiches